Side By Side Breakdown of Five Concrete Overlay Systems for Concrete Refinishing
Santa Fe home owners and commercial property owners need to know there is a large array of options when it comes to choosing overlay systems to refinish concrete flatwork. For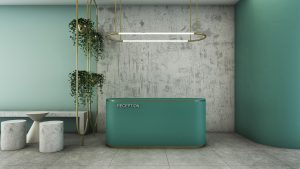 example, there are methods or systems referred to as "ultra-thin systems", which may also be called skim coats, or micro-toppings. These overlays can range in thickness from around an inch, to as thin as a credit card. Every style of overlay has different performance qualities and decorative options.
Your overlay choice will likely essentially rely on your overall desired visage. However, the condition of the surface the overlay material is going to be placed on is equivalently important to take into consideration. Higher-build systems are more capable of enduring rough conditions and more effective at hiding flaws than other ultra- thin topping options. They also allow a broader selection of textures and patterns, as they can withstand deeper forms. Here we explain each kind of concrete overlay system, and a description of its traits to better help you choose the product best for you.
Micro-toppings or skim coats
Application thickness: Feather edge to ⅛ "
Polymer based system is flexible, unlike other systems due to its extremely thin layer of application.
Can be hand troweled out smoothly, or against a texture. You can color it several different ways, including; using stains and dyes, integrate color into the mix, and casting out dry pigments on the surface while troweling, which would offer a marbleized effect.
May also be applied to walls
Spray-down systems
Application thickness: ⅛ "
Results in a textured finish that is skid resistant and durable. This is ideal for projects such as sidewalks, driveways, and pool decks.
Typically executed as a splatter coat or a troweled (knock-down) finish. Available pre-colored or can be integrally colored yourself during mixing using tints, dyes, or stains. Ideal to use with plastic or paper stencils.
Stampable Overlays
Application thickness: ¼ " to ¾ "
Are applied thick enough to hide minor flaws in the concrete substructure as well as accept texture.
Stamps and textures can be used to mimic things like natural stone, brick, and slate among other materials. You may color these with powdered releases or colored liquid, you may broadcast pigments, or you may use stains, tinted sealers, and dyes.
Self-leveling Overlays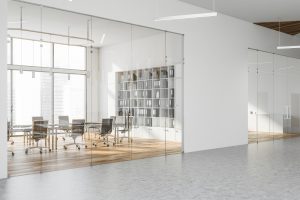 Application thickness: ¼ " to 1" (in one lift)
Can be used to level uneven floors and restore worn, yet structurally secure surfaces.
You may choose to alter their appearance by using sawcut or engraved designs, or leave it perfectly even, except at joints of course. To add color, use stains, dyes, tints, or internal pigments.
Under-layments
Application thickness: Up to 1 ½ "
Provides a smooth base to restore structurally sound yet worn concrete prior to other floor coverings.
Helps remove moss and weeds that grow in the joints, and refills joints with sand when necessary.